Biography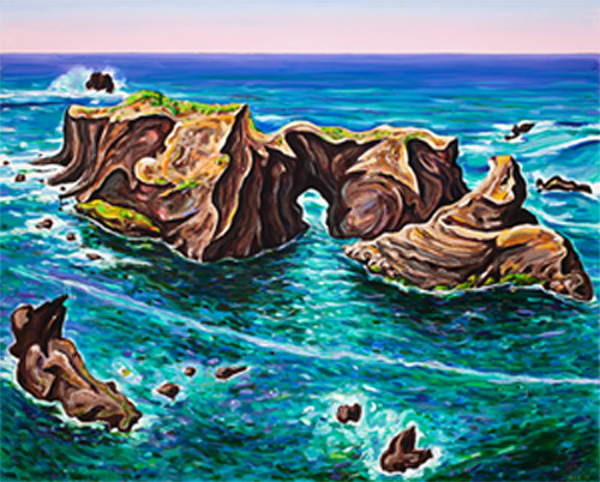 As a child, growing up in San Diego in the fifties, I developed interests in science and art. I loved science and math, but the most exhilarating experience was as a ten year old, walking into an artist's studio, and breathing in the fumes of oil paint and turpentine for the first time. I felt like I was home.

I took Saturday art lessons and my love for painting blossomed. In high school, I divided my attention between math equations, physics experiments and painting, and drawing what I termed "space monsters" (fast space and forms influenced by Matta, Rico Lebrun and Lee Bontecou. Fifty years later I am still developing this work).

In 1967 I enrolled at Harvard with a dream of becoming an astronomer who also made paintings. Two years later I found myself attending CCAC (now CCA) and staying out of Vietnam.

In 1970 I had a profound revelation: a show of very large and colorful paintings by the Scottish Alan Davie was installed at the CCAC gallery, down the street from where I lived and for two months I took every opportunity to see the work. I had discovered the joy of color in painting.

In the early 70's I became involved with the Upper Market Street Gallery (later, Jehu Gallery) in San Francisco. In 1972, "A Salute to Oakland" (with three other painters) was hailed as "the baddest show in town" by SF Chronicle art critic Thomas Albright. In 1978 I had a solo show at the Jehu Gallery of large landscape and still life paintings. On the basis of these shows, I was included in Albright's 1983 book, Art in the San Francisco Bay Area, 1945-1980.

I spent most of the 1980's on a series of groups of runners (I ran cross country and track in high school). My approach was eclectic, from cartoonish realism to cubist abstraction. Two solo shows resulted, at the Rolando Castellon Gallery in San Francisco and at the College of the Holy Names in Oakland.

In 1989 I became a second grade teacher for the Oakland Unified School District. In 1991 I became an art prep teacher, teaching art to children ages 6-11, and worked at this until my retirement in 2007. These years were transformational for me. My art "career" took a hiatus. The curriculum I created emphasized math and geometry, and what I termed "visual literacy". Not only did I begin to re-assess my own work, but being around children and their uninhibited efforts at making art was thoroughly invigorating.

The events of 9/11 made the world incomprehensible to me. In reaction, I began a series of some 400 "paintings about nothing". They were formalist abstractions and were shown at the Merced Arts Center in 2007.

In 2007 my wife and I moved to rural North Java, near Buffalo, New York. I painted landscapes again, and began re-assessing the work of forty years. I revived some of the funky cartoonish work of the past, with a dose of Egyptian art thrown in. I continued a series of invented floral paintings I had started in the 90's. In 2010 my wife passed away, and I returned to California to live. I worked on the floral series until 2013, when I began the present series of oil paintings derived from plein air landscapes done over the past few years.